I am having a blast representing @VisierAnalytics' social media presence at the 14th Annual HR technology Conference in Madalay Bay Las Vegas – which runs from October 3rd through to the 5th.
Human resource professionals are realizing the need for social media to help them achieve their recruiting and talent management goals. Social Media may be an obvious fit for marketing and customer service, but what about HR? Online social capital is starting to become more important than any traditional resume. Leaders in the HR technology and talent management worlds are not only embracing social but are already taking advantage of it in ways only recently thought possible. Job postings are starting to pop up on twitter and facebook, as well as widgets such as the linkedin apply button where candidates can apply for jobs right from their linkedin profile. This is just the beginning of how HR professionals are succeeding at using social media to find the right people – at the right time – for the right job.
At the conference they are focusing on three critical areas
Talent Management
Social & Mobile
Workforce Analytics & Planning.
Three areas that have caught my attention when it comes to social media and human resources are:
1. Using social media to ethically and efficiently screen and recruit ideal candidates.
2. Using social media to nurture the company's culture, values and vision.
Social media applications are being used to increase productivity and help employees effectively manage tasks. These types of achievements encourage employees to become brand ambassadors and help to grow the company culture.
3. Using social media to monitor your employees social communication.
The primary goals of employee monitoring are to track the activity of existing employees, enforce an organization's social media policy, increase productivity, and mitigate the risk of a potential disaster.
Here are a few highlights of the conversations being had today around social media with the #HRTechConf hashtag.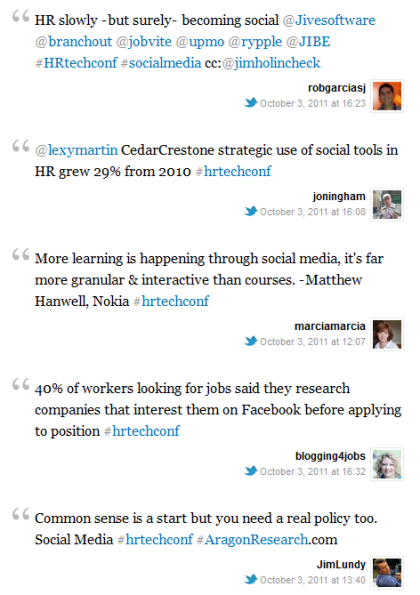 You can follow @VisierAnalytics and the hashtag #HRTechConf for real time tweets to see for yourself how social media is helping the HR community evolve with technology.
Comments