There have been a lot of changes happening on Google Analytics over the last week:  there have been design updates to the new interface, and Google has announced a new option of Google Analytics Premium.And now, the feature that we have all been waiting for has been launched – REAL-TIME stats!
It has always been frustrating that with the Google Analytics tool that you have to wait a full 24 hours to see how a particular blog post has performed.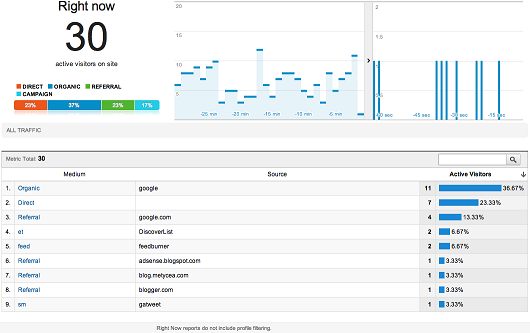 That is a frustration of the past, as Google Analytics have started to roll out Real-time.  This means that you will receive a whole new set of reports that show what is happening on your site as it  happens. Finally, you can have statistics that will inform you of how your actions have effected your traffic immediately.  You will be able to see which social networking sites are driving traffic to your site by analyzing direct trends, and when they cease. You will even be able to see clearly what time of day has been best for your audience that instance.  However, you will need to be using the new version of Google Analytics so if you haven't changed over yet, this might be a reason to do so.
To access Real-time reports click on the dashboards tab – or in future that home tab (in the new interface).
Google have only turned on Real-Time for a few users and say that they will be giving access to everyone over the coming weeks.
To sign up for early access which may help a little, click https://services.google.com/fb/forms/realtimeanalytics/
Comments